Nuendo 8
What is new in Nuendo 8
Providing unique features for game audio production, TV and film post-production and ADR workflows, ranging from an improved integration with game middleware over creative tools for sound designers through to a highly flexible direct offline processing system, Nuendo 8 truly is the new standard for audio-to-picture work.
Nuendo 8.3: The Virtual Reality release
Nuendo 8.3 represents a milestone in the world of Virtual Reality (VR) audio production — the first and only professional DAW to integrate an entire audio production workflow for VR.
Ideal for those starting off VR content creation, this updated feature set contains everything to start VR production easily without the need to laboriously search for, learn and integrate with other tools. Additionally, Nuendo 8.3 supports a plethora of third-party VST 3 VR plug-ins, such as Facebook 360. The internal VR functionality in Nuendo 8.3 is designed to be very similar to conventional surround production workflows, enabling the faster completion of VR projects.
Ambisonics support
Ambisonics is a technology that creates a spherical sound field. Unlike traditional immersive sound formats, Ambisonics is not channel-based; it uses an encoded bundle of multiple audio streams to place sounds anywhere within the sound sphere. The precision of positioning depends on the number of streams, and it is described as first, second or third order.
Nuendo 8.3 supports Ambisonics up to the third order and not only for mixing – Nuendo can record directly from an Ambisonics-capable microphone system, allowing you to capture live performances and positioning sounds in the spherical field with the utmost precision. You can also import preproduced Ambisonics sound mixes as Wave files and use the internal VST Ambisonics Panner to create an Ambisonics mix from mono, stereo or surround sources.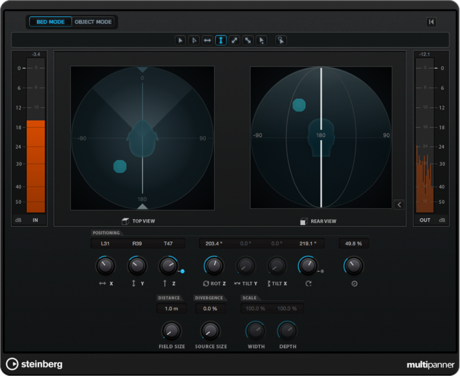 Panning audio in Ambisonics
Mono, stereo or surround channels can be routed to Ambisonics buses with the new VST MultiPanner to position the audio in the Ambisonics sphere. The Top and Rear view-orientations are bound to the head tracking viewing angle, meaning that whatever you see in front of you in the VR display will also be what is virtually "front" in terms of panning.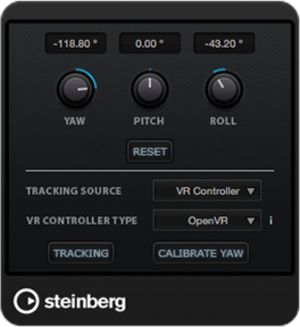 Headtracking: HMD connection
Headtracking is essential for creating content for VR, as the head moves in a spherical environment. For this, popular VR headsets such as the Oculus Rift and HTC Vive can connect directly to Nuendo, allowing you to view the original VR content in real time while mixing the audio environment. Alternatively, 3Dconnexion Mouse is also supported.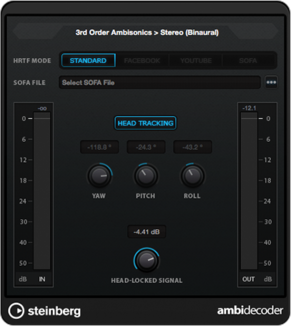 Monitoring Ambisonics Audio
Nuendo 8.3 includes an VST AmbiDecoder plug-in. This decodes the Ambisonics mix to an immersive HRTF-based binaural sound for headphones or to an immersive sound speaker configuration. Besides being able to import an HTRF file containing the information of individual head and ears shape, the AmbiDecoder also offers YouTube and Facebook monitoring modes.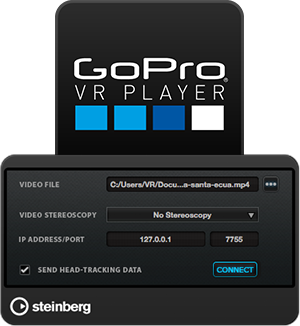 Video playback
To be able to display 360° videos, Nuendo 8.3 requires GoPro VR Player Version 3. The GoPro VR Player is a free video player that can be synchronized with Nuendo 8.3 and play back 360° videos, with the viewing angle following the listening perspective. Download and install GoPro VR Player from www.kolor.com.
Game sound composing & production
Game Audio Connect 2
Nuendo 7 established a new milestone in game audio production with the introduction of Game Audio Connect that first enabled transferring audio files to Wwise. Now, Nuendo 8 takes things a huge step forward. Game Audio Connect 2 allows you to transfer interactive sections of your compositions from Nuendo as music segments into Wwise, including audio and MIDI tracks as well as cycle and cue markers, opening up a whole new dimension for game sound composing. Plus, you can now create Nuendo projects directly from Wwise segments, effectively allowing you to use Nuendo as a MIDI editor for Wwise.
Rename events from list
A correct naming scheme of your audio assets is very important for their implementation into game engines and middlewares. By importing a CSV file with all the relevant data, Nuendo's new renaming tool relieves you from the weary task of renaming all events and gets the job done automatically.
Direct offline processing
Nuendo 8 brings the offline processing workflow to a higher level. The new direct offline processing allows you to apply your most often used processes and plug-ins as a chain for one or multiple selected clips. Auto Apply lets you use offline processing with the feel of real-time effects, but without the CPU load — keeping your MixConsole clean for the mixing stage. You can copy your process chain to other clips or save it as a preset to use it in other projects. The list of processes is always available for each clip, allowing for later non-destructive changes. Any change will be applied to all selected clips.
New in 8.1
Nuendo 8.1 includes a new Favorites section where you can store your frequently used effects with predefined parameter settings either as single-processes or as batch processes. You can now load FX Chain presets from the MixConsole and from Track Presets within the DOP window. Then there's Auto Apply, which can now be turned off before changing parameters on an already loaded process or plug-in. To render those parameter changes, you just have to press the Apply button afterward. Last but not least, it is now possible to add a tail to the end of selected events for a natural-sounding decay when using time-based effects, such as delay and reverb.
Automatic Audio Alignment
With the new Audio Alignment tool, Nuendo 8.1 introduces another great time-saving workflow improvement, allowing you to transfer the timing of an audio event (set as reference) to another audio event or multiple events with a single mouse click.
Audio Alignment offers two different modes. There is the Standard mode for all kinds of sounds and music as well as the Voice mode, specially optimized to align speech or vocals with the same wording and language. You can also achieve different results by selecting a different warping algorithm in the Sample Editor. This is a very helpful tool, for example, when matching the timing of an ADR take or an alternative take with an original dialog recording without time-consuming manual work. It also helps you solve phasing problems from recording a take with different microphones.
Creative sound design on a higher level
Sound Randomizer
Time is a precious commodity. That's why Nuendo is there to do the tedious work for you — automatically. Instead of duplicating and altering thousands of sounds manually, the new Sound Randomizer creates different variations of a sound simply by adjusting four parameters. The plug-in changes pitch, color, timing and impact of an audio clip creating completely new sounds and saving you loads of hours of repetitive work.
Sampler Track
The new Sampler Track allows you to turn any audio file into an instrument. After dragging a sample from MediaBay or your project onto the Sampler Track, you can play it chromatically and apply on-board filters and controls to manipulate its sound. Included is Caleidoscope, a dedicated sample library with hundreds of sounds and presets.
Workflow novelties
MixConsole History
Ever wanted to compare different mixes with just one mouse click? Allow us to introduce you to MixConsole History. It's a great new feature that tracks all changes made in the MixConsole and easily lets you choose several stages of your mixing process just by selecting them from a list. This means you'll be getting your basic mixer undo/redo, but it also allows you to experiment freely with which mix suits your project best.
The Lower Zone
Access all areas in the fastest and most convenient way. The new Lower Zone provides a neat and tidy overview. Your tools and editors are now just a mouse click away: the Lower Zone will enhance your workflow regardless whether you're working mobile on a laptop or in a multi-screen studio environment.
User Profile Manager
The new Profile Manager in Nuendo 8 lets you easily store and recall program settings and preferences, including keyboard shortcuts, color schemes and more. Switch between different settings or migrate your very own custom Nuendo environment to another studio running Nuendo 8. The Profile Manager lets you take "your" Nuendo with you wherever you go!
Dedicated punch points
Nuendo 8 introduces dedicated punch in and out points, which are independent from the locator positions. Together with the Cycle mode you can now easily define a start and end position for cycle playback with dedicated positions to punch in and out from Record, all while remaining in Cycle mode.


New video engine
Nuendo 8 includes a new, modern video engine that is not based on Apple's QuickTime technology and which supports the most relevant codecs, as well as external video cards. The video engine will be further developed throughout Nuendo's lifecycle and more functionality will be added. To enable support of the Avid DNxHD codec, a separate Avid licensed product is required. The Video Decoder for Avid DNxHD® is available in the Steinberg Online Shop (Nuendo 8.0.15 required). For more information about the current status of the new video engine, please read here.


Audio input and side-chaining for VST 3 instruments
The new Audio-Ins option offers you the opportunity to send audio to VST 3 instrument plug-ins supporting side-chaining. This will increase your creative sound design possibilities tenfold.
Workflow and stability enhancements
Nuendo 8 introduces several new features that further emphasize stability, making the Nuendo experience a reliable one —and more comfortable as well.
Workflow enhancements
Plug 'n' play support for USB devices on Microsoft Windows
Enhanced track creation feature, which allows outputs to be assigned when adding new tracks
Improved ruler handling
Free shaping and editing of tempo information
Moving of consecutive automation events wherever you want
Faster duplicating of events or parts using a mouse
Quick access to render export dialog
Stability enhancements
New video engine for more stability and independence from QuickTime
New Plug-in Sentinel scans all your plug-ins at start up to check which are valid and which might harm your system's stability
Running in 64-bit only makes sure that you benefit from the most modern technology available