Riffer
The Creative MIDI Sequencer
What is Riffer?
Riffer is a smart MIDI tool that generates musical Riffs & Sequences by combiningPitch, Duration, Velocity & Density. Built for your sounds, Software & Hardware. Turn them into something of your own or let it run endlessly using the infinity mode.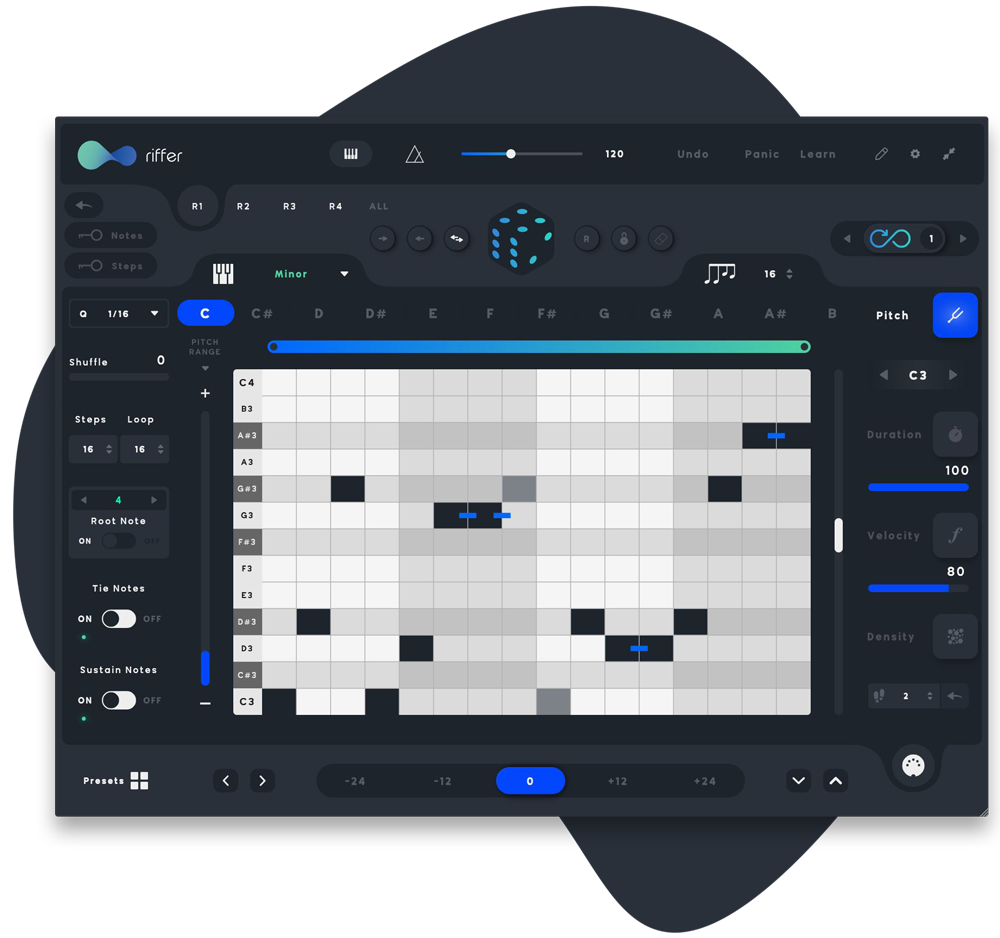 a Swiss army knife for MIDI +
WE HAVE MADE A GREAT GENERATIVE APPLICATION FOR YOU.
Introduced in 2015 and by receiving regular updates, Riffer is endlessly generating unique riffs for more than 35.000 usersproving its value as the best and most feature-rich generative MIDI Sequencer on the market.
Advanced MIDI Connectivity
Designed to 'feed' anything that accepts MIDI, both Software & Hardware.
MIDI Input
Trigger it with your Keyboard or via any MIDI Input.
Amazing Experience
Discover new ways of composing riffs & musical patterns.
Powerful design
Lightweight plugin designed to run on any system or device.
Available for any device
VST/VST3/AU/AAX Plugin for Windows, Mac, iPad & iPhone.
Riffs made only for you
No two patterns will ever be the same, they're your own.
Features
Generate Random Riffs
Everything is Synced to your Host tempo
53 Scales included from Western to Eastern
Create & Save your own scales
Choose the number of notes generated
Set the number of root notes based on chosen scale
Generate pattern Pitch, Duration & Volume per note
Tile or Sustain Paused Notes
Lock individual Notes or whole Steps
Quick-Export MIDI pattern
Quick Transpose whole pattern
Quick Load preset Section
Choose Quantization settings
Suffle & Shift Mode
Advanced Infinity Mode
Set Sequence range & Motion Settings
Set Range for Pitch, Duration and Velocity
Save & Load your own patterns
Send MIDI to any Device, Software & Hardware
Advanced MIDI CC/Mapping editor
No Two Patterns will Ever be the Same
The only Plugin available of its Kind!
Newest Release
v3.1.1 – 02 Sept. 2021
Support for Apple silicon M1 devices
Polyphonic Mode / Multi-Riff Engine
Density Function
MIDI Input / Performance Mode
MIDI Learn
Share Presets Across Devices (Desktop/iOS)
Performance Improvements (Desktop/iOS)