Kilohearts Phase Plant & Toolbox Professional Bundle
A Powerful Soft Synth Plus a Wide-ranging Arsenal of Plug-ins
Kilohearts Toolbox Professional arms you with an impressive 30 Snapin plug-ins. Great for mixing and sound design alike, this bundle covers all your plug-in needs with a wide-ranging cache of bread-and-butter processors, creative effects, and problem-solving tools. The plug-ins in Toolbox Professional feature easy-to-use — and resizable — user interfaces, and they work with Kilohearts' revolutionary Snapin hosts. This version of Kilohearts Toolbox Professional also includes their powerful Phase Plant software synth for a hefty injection of semi-modular bliss.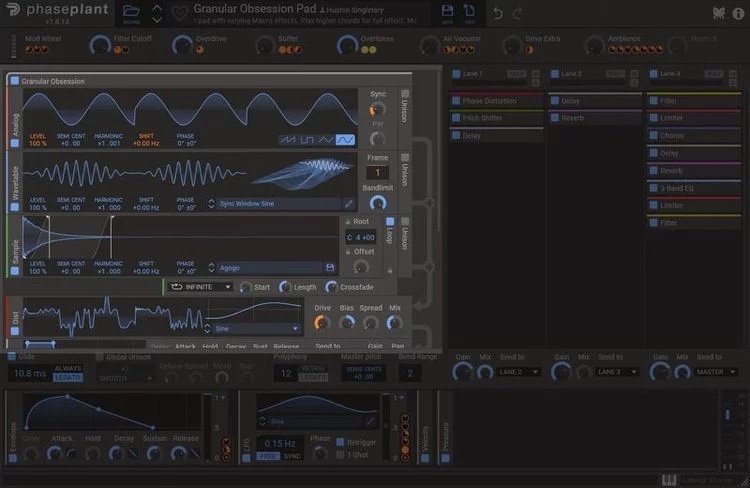 Phase Plant
Phase Plant not only serves as a powerful tool when crafting soft synth sounds, but it also offers unlimited creative potential for you and your creations! Its core is based around a quartet of signal generators, with ear-pleasing effects and modulators to shape your sounds to perfection. Its uncluttered interface is ripe for experimentation with different types of oscillators to nail whatever sound you're looking for, while letting you mix and match all of Phase Plant's offerings to your heart's content. This impressive plug-in is also a Snapin plug-in, which means you can use it just like your standard plug-in or with Kilohearts' Multipass and Snap Heap host plug-ins.
Phase Plant Features:
Powerful soft synth plug-in with 4 signal generators
Signal generator options include analog, noise, sampler, and wavetable oscillators
Onboard effects and modulators for even greater experimentation options
Uncluttered interface inspires creativity
Fully customizable parameters and controls
Over 400 studio-quality presets
Snapin plug-in that can be used as a regular VST/AU or in Kilohearts' Multipass and Snapheap host plug-ins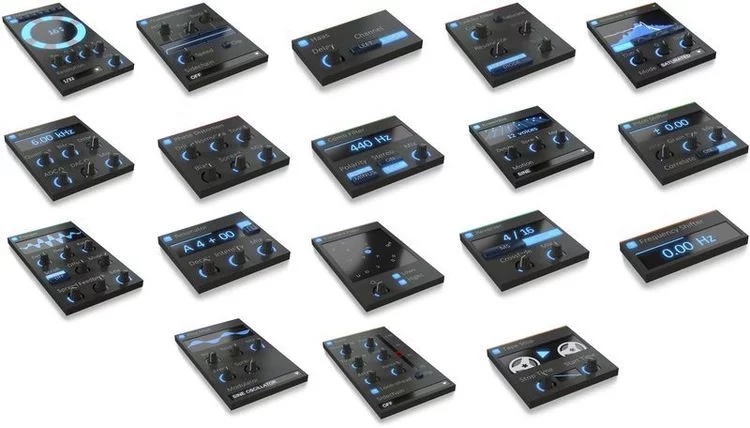 Build a massive modular sound design system with Snapin plug-ins
On their own, Kilohearts plug-ins are formidable production and mixing tools. But when integrated using Kilohearts Snapin hosts — Snap Heap, Multipass, and Phase Plant — they evolve into a powerhouse modular sound design system. As the name implies, Kilohearts Snapin plug-ins literally "snap" into the Snapin hosts, allowing you to build massive processing chains and offering numerous ways to modulate parameters, stack effects in series or parallel, and creatively manipulate chains via automation and MIDI — all in a streamlined environment. Snap Heap arms you with four independent effects lanes, assignable envelope generators and LFOs, and the ability to control numerous parameters simultaneously with user-defined macros. Multipass ups the ante on the Snap Heap formula by including a frequency band splitter, which enables you to apply dedicated effects to individual frequency bands. For instance, you can completely transform a stock synth pad by saturating the low end and collapsing it to mono for more focus and heft, while adding a subtle chorus to the midrange frequencies and bathing the high frequencies in a pitch-shifting delay. Finally, Phase Plant combines Snapin plug-in functionality with an award-winning semi-modular soft synth to create a virtual instrument with unparalleled flexibility. With more than 30 Snapin plug-ins available, you're free to assemble limitless combinations of effects that will color your productions with totally unique sounds!
Note: Kilohearts' Snap Heap is available for free. Multipass and Phase Plant are sold separately.
Kilohearts Toolbox Professional Bundle Includes:
3-band EQ
Bitcrush
Chorus
Comb Filter
Compressor
Delay
Distortion
Dynamics
Ensemble
Filter
Flanger
Formant Filter
Frequency Shifter
Gain
Gate
Haas
Ladder Filter
Limiter
Nonlinear Filter
Phase Distortion
Phaser
Pitch Shifter
Resonator
Reverb
Reverser
Ring Mod
Stereo
Tape Stop
Trance Gate
Transient Shaper